Play Audio – Good Day with Doug Stephans – July 22nd, 2014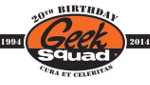 We continue to celebrate Geek Squad's 20th Birthday by talking to Good Day with Doug Stephans about the technology changes Geek Squad has seen over those last two decades.
Since the days of the shared family desktop computer, we've seen tech become more personal, first with everyone having their own laptop to the highly mobile world where everyone from teens to seniors has a personal smartphone with their own access to the Internet.
As devies become more personal, they also start to talk to each other. Geek Squad has changed over the years to help with all these connected devices, with Geek Squad Autotechs helping with bluetooth car audio, Home Theater Agents setting up connected TVs and even our appliance installation and repair teams are looking at washers and dryers that can connect to your home network to let you know when they're ready to be unloaded.