The third day of our trip involved three seperate adventures, the first of which nearly killed us with all the walking and climbing involved.
Diamond Head
The Diamond Head is one of Hawaii's long extinct volcano cones that lies right next to the Waikiki beach. There is a mile-long path that leads up the 700+ foot tall rim of the Diamond Head, which leads to a stunning view of the Pacific Ocean.
While the tourbooks describe the hike as "short", it's definitely not something to be undertaken lightly, as the terrain is rough and the climb can be very steep as the path twists and turns up the side. The last portion of the hike involves going up over a hundred flight of stairs and through the lookout complex at the edge.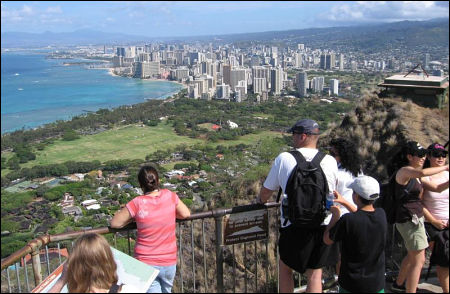 The view from the top, however, makes for a very satisfying conclusion to the difficult hike.
Atlantis Submarine
After the long hike to the top of the Diamond Head, we were glad that our second adventure consisted of an underwater trip in of the Atlantis Adventure submarines.
The water was a stunning blue-green at the hundred foot depths we reached during the trip. The colors only made the artificial reefs formed out of the sunken airplane and ship encountered during the trip that much more spine-tingling.
The Punchbowl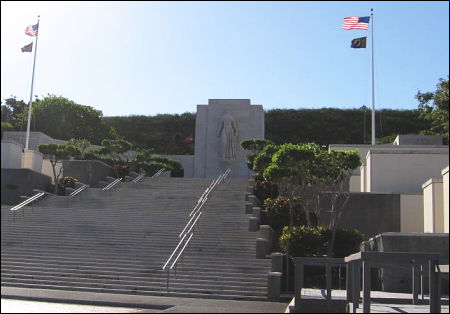 Our final trip of the day was to the Punchbowl Crater where houses the National Memorial Cemetery of the Pacific, which pays tribute to the men and women who've given their lives in service.
PHOTO GALLERY » HAWAII: DAY THREE