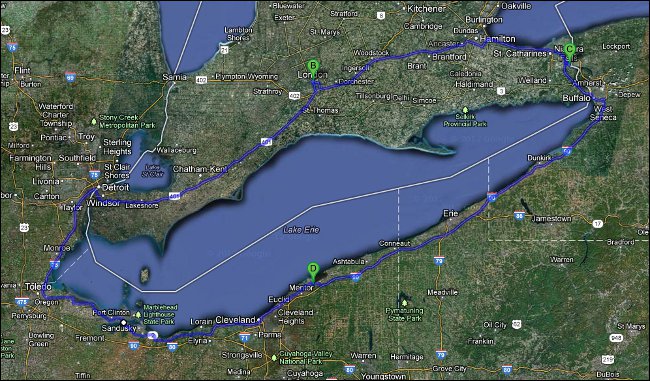 Lake Erie Loop 2013 is now complete! I had wanted to take a longer trip on the motorcycle for some time, and the idea of a "multi-country multi-state" tour around Lake Erie came to mind.
The trip totaled 650 miles roughly, starting on the east-side of Cleveland. I left early Monday morning, allowing me to ride along the "Lake Erie Circle Tour" route, which uses the small roads that run alongside the lake for a great view through small cities.
I am always surprised by the number of sandy beaches Ohio has along Lake Erie, because you never think of the state being that warm, at least until the Summer weather gets into the 90s.
When I hit Toledo, I got back onto the highway, with Michigan and then Detroit coming up sooner than I had expected. I had wanted to use the Detroit-Windsor Tunnel to get to Canada, but found that they didn't allow motorcycles and trucks. Probably due to the noise the average open-pipe cruiser makes not being pleasant in a mile-long underground tube.
Crossing the Ambassador Bridge between Detroit and Windsor gave a great view of the two countries with how high it gets in the arched middle. Soon enough I was back on the ground at the Canada border booths. Entering the country involved showing my passport, answering a few questions about who I was, where I was going, and what I was doing.
While in Canada, I stuck to the major highways due to my Garmin GPS unit suddenly developing power fault. Normally, I would use my smartphone as a GPS, as it can send audio directions straight to the Bluetooth audio headphones in my helmet. However, AT&T's "international roaming" rates are astronomical (120MB for $30), so I opted to turn the phone off and follow an easier to manage route.
The highway speeds average around 100km/hr (60mph). Once I switched the FZ6's display over to kilometers, it became easier to keep to the speed limits. The Ontario country side in Windsor was filled with flat farmland just like the middle of Ohio, but had hundreds of giant wind turbines as far as I could see, with a few solar panel farms scattered about. Those miles were filled with the Pinwheel Playhouse theme playing in my head.
I stopped in London, Ontario, which is approximately due north from where I live on the other side of Lake Erie in Ohio. An aspect of travel that I always enjoy is seeing how similar, yet different, everything is in another location. The people were still regular people, going on about their average day. You still had Wal-Marts and even a few Best Buy's (I stopped into two to check them out), but you also have Tim Hortons everywhere that a Wendy's normally would be.
The next morning, I headed towards Niagara Falls. And got very lost for a bit there. The highways in Canada use signage a bit differently than here in the US. The roadsides are dominated by large signs telling you everything about the upcoming exit, but rarely do you see signs for the distance to locations further down the road. I missed the split onto QEW that heads south because there was no mention of Niagara anywhere 30 km ahead of it.
Riding through Canada, I was a little surprised at just how diverse their motorcycle riding population was. In Ohio, the vast majority of motorcycles are Harley-Davidson cruisers with a smaller number of Kawasaki Ninja sport bikes. Across the border, I saw a number of BMW motorcycles in the wild, along with KLRs and other adventure bikes that I didn't normally run across here.
Eventually, I did arrive in Niagara, Ontario. It had certainly grown up since I had last been there as a very small child with my parents. The place almost feels like a mini-Vegas, with the number of large Casino hotels, souvenir shops and tourist attractions for families and newlyweds.
I took some time to go up in the Skylon Tower because it's one of the memories I do have from my childhood visit. The center itself is old and worn down, but the view from the top of the tower is still good.
I also stopped down to the falls themselves and made to sure to properly take in the crazy amount of power 3,160 tons of water flowing over the Falls every second has.
Eventually, the trip home started. Across the Rainbow Bridge and to the US border, where I was asked similar questions to those when I entered Canada.
Just down the highway, lay Buffalo New York, which then led me down and through Pennsylvania, past Erie, and finally after a 3 hours on the road, I was back home.
It was an awesome trip to take on the motorcycle, and I look forward to my next 2 wheeled adventure!